Dataspace Uniform Management software is the global leading e-commerce platform in online apparel management with full integration into third party ERP platforms. Dataspace Global have invested heavily in technologies to ensure large organisations have full control over their uniform expenditure, staff budget and allowances and access to reporting 24/7.
The fully integrated, budget and cost control platform was developed to meet the needs of the clothing and garment distribution industry and now recognised as the market leader in its field. It provides total control over the whole management of uniforms and PPE boasting the following features:
Online storage of personal sizing details facilitating prompt access by your staff to employee records,
Control styles of products available by a pre-set company selected range- employee uniform entitlement restrictions,

Pre-set uniform ranges ensure 100% compliance to your company uniform range,
No limit to the number of ranges available online such as; General Workwear, Corporate, Arc Flash/Flame Retardant, Mechanics/Workshop, Front of House etc 

24/7 access to reports on every single field throughout the system,
Complete EDI integration into third party platforms such as SAP, Pronto, Greentree, Basware and many others,
Credit card part payments for employee's willing to order over their allocated budget and EBA allocation,

This feature only available for those companies set-up with all staff member's placing their own orders through Dataspace Uniform Management

Full online live tracking for all orders showing exactly where the order is,
Online returns request against each staff member providing live budget adjustments once items returned,
Extensive list of reporting available 24/7 to extract spend by employee, cost centre, department manager and so on,
Upload and store documents against staff members such as order receivable proof documents, sizing charts or uniform request forms, 
Full staff order history providing all details of styles, colours, sizes and quantities previously ordered for every employee, 
Complete budget/EBA entitlement control per person either by $$ amount or number of units per category,
Scope for 5 different levels of ordering authority, all controlled by your management team including;

all staff member's received login details to place their own orders within the budget set and uniform range allocated to them - no order approval required, 
all staff member's login to request uniform's with approval required from list of senior staff members with approving authority,
set staff member's login to place orders on behalf of employee's within their office/site/team/state etc - no order approval required, 
set staff member's login to place orders on behalf of employee's within their office/site/team/state etc - order requires approval from staff member with approving authority,
administrator oversees whole company portal with full access to place orders, add & remove staff member's, increase staff EBA/budgets, 24/7 reporting and monitor ordering history. 
The system is primarily designed for companies that have a large number of staff and multiple locations with multiple purchasing staff. Large organisations now have the ability to manage their apparel requirements across their network of branches and multiple locations and have control on budget's per employee and access to reporting. The online software solution is a 'best in its class' ordering system, revolutionising the clothing supply management process and providing companies with faster, more efficient, reliable and ultimately more cost effective ordering capability.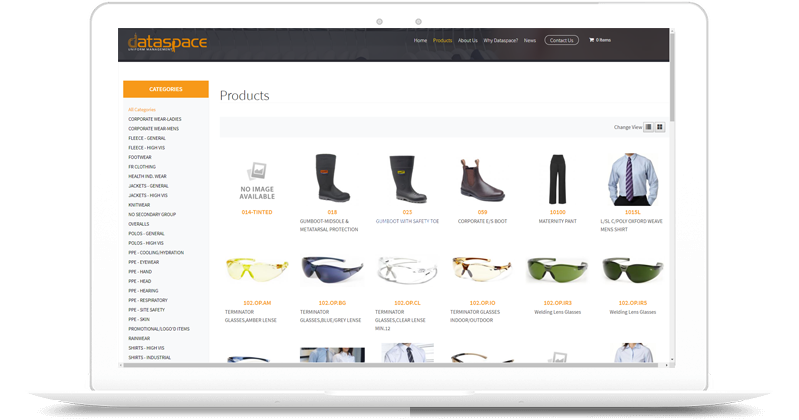 Dataspace Uniform Management not only provides CEO's, CFO's, Procurement & Supply Manager's with control over their uniform and PPE spend, but also makes the life easier for those employees placing and processing uniform orders. Placing orders has never been so easy with;
Staff order history only 1 click away,
Pre-set size selections to make ordering quicker,
Pre-set company uniform range set against each employee,
Complete list of staff uploaded into Dataspace with search function to place orders against each staff member.
Contact Dataspace Global today to learn more about how Dataspace Uniform Management will provide you with continual cost reductions and make the life of those placing uniform orders easier.